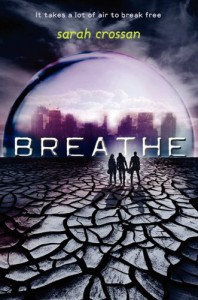 Can also be seen on
The Social Potato
.
Let me start this off by saying Breathe by Sarah Crossan is one of the better Dystopian books out there. It's not perfect, but it's a good book 1 to what may be an epic dystopian adventure following three main characters: Alina, a stunningly beautiful girl who's fighting against the abuses of the new society; Quinn, a naïve and sheltered son of an influential figure who finally realizes the truths that were withheld from him regarding the place he called home all his life; and Bea, a smart, level-headed girl who wanted nothing more but to achieve a comfortable life for herself and for her family.
One of the factors that made this book work for me was the world building. Throughout the book, I was amazed on how the author was able to construct a"perfect" society that followed an apocalyptic event, a society that had a system, but at the same time, wasn't really what it seemed to be ("a there's more to it than what meets the eye" thing). It's not that it was realistic, but more like it was plausible. The world she created was one that could actually happen in the distant future - a situation that could actually materialize in real life. So while it was an enjoyable read, it was a bit scary, too, because I could just imagine the sufferings and the anguish of the people maybe 200-500 years from now as they fight for the last remaining oxygen. Hopefully, if ever this happens, I'd have been long dead. Haha.
Another thing that I absolutely appreciated in this book were the political dilemmas or the political drama that were portrayed. I remember saying before that in my opinion, a dystopian can't be called a dystopian if no form of politics is present. Otherwise, if there are no political dramas that bar and hinder the main characters in their new world surrounded with their new systems, then there aren't any "concrete" skeletons for the plot. Fortunately, Sarah Crossan was able to make very exciting conspiracies in Breathe that were able to move the story in a thrilling and fast pace. They were a bit predictable, yes... you could even see a bit of Michel Foucault ideologies in it, in which scientific knowledge were used but they were means to control the people. Interesting, huh? x= There were no closure yet in regards to these political problems and the rebels fighting against the government, but everything is just beginning... hopefully we see more of them delicious drama come book 2 :p
As for the characters, I thought they were okay... honestly, they didn't really stand out much at the beginning, and it took some time for me to really, really appreciate and get used to them. Although the book used all three's POVs, they all had distinct voices, so any confusion regarding who's who was minimal... But if anything, I felt really uneasy towards Alina's character. She was the kind of girl that we see frequently in YAs - stunningly beautiful, tough, strong, smart, and clever... it was difficult to relate to her at all due to the lack of flaws (I mean, come on... every one has some... and honestly, I wouldn't be attracted to a too-good-to-be-true guy, either... haha).
There was one thing I really appreciated, though, and that was the romance. Yes, there is romance in this book (hello, YA?), but the plot doesn't revolve around it at all. I appreciated the gradual development between two of the three characters, and I sit here hoping it becomes more meaningful in the next installments.
All in all, it was a good read, and I look forward to book 2 :)